VOICE AND UCC SOLUTIONS AT WORK
NEXT GENERATION VOICE SOLUTIONS
Go Creative Wireless offers a comprehensive suite of cloud telephony solutions to increase productivity at every business level.
Hosted Call Center Solutions
Predictive Dialer and SMS
Smartphone iPad | Tablet Apps
Soft Reception Console
IP Fax Solutions
Virtual Office Attendant
CRM | MS Outlook Integration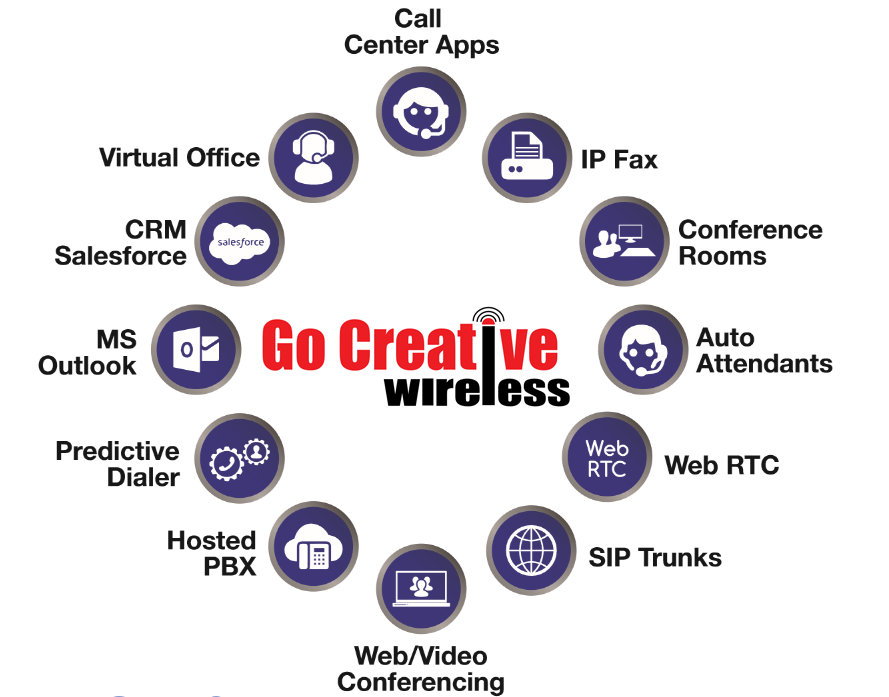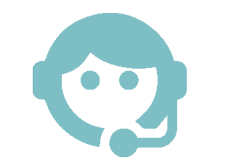 CALL CENTER APPS
With Go Creative Wireless hosted call center solutions, say goodbye to large upfront investments, complex management, hidden fees and long deployments. Our call center functionality is leading edge technology with call back, call whisper, call barge features and all the real time reporting and metrics you demand at a fraction of the costs.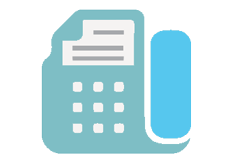 IP FAX
With Go Creative Wireless IP FAX solutions, get a little or get a lot, the choice is yours and either way, the quality is always superb! All Go Creative Wireless DIDs are T.38 compliant with awesome fax delivery from 2 to 500 pages!
Inbound only
PDF 2 Email
Traditional Fax to Fax
Fax – Store – Forward Solution
HIPAA Compliant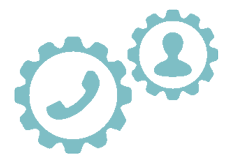 PREDICTIVE DIALER
With the Go Creative Wireless hosted predictive dialing and SMS solution, triple the amount of agent talk time with prospects, auto detect no answers, busy signals, voice mail, fax machines and quick disconnects.
Throttle concurrent calls
Auto Redial Feature
Traditional Fax to Fax
Multiple IVR Scripts | Reports
SMS Broadcasting Option
PBX PHONE
With Go Creative Wireless PBXFone, our smartphone app brings the ultimate connectivity to your business phone extension. Twin your smartphone, iPad or tablet and take your desktop phone extension with you anywhere and get the mobility and productivity you demand in today's competitive environment.
FREE download from APP Store and Google Play
All PBX functionality available
Switch calls from app to desk to mobile on the fly
Call recording available
Access user portal and settings
GO CREATIVE WIRELESS IS YOUR SINGLE SOURCE FOR
TECHNOLOGY – SERVICES – DEPLOYMENT – SUPPORT
SOFT RECEPTION CONSOLE
The Go Creative Wireless Voice Operator Panel is perfect for large organizations that wish to omit the clutter of reception phones with multiple
expansion modules.
The VOP provides full extension status monitoring (ringing, busy,
available) with calls details and call interception. This advanced software
switchboard and attendant console is fully translated in English, French,
Spanish, German, Italian, Dutch, Danish, Turkish, Russian and has all
the drag and drop features required to operate an effective
receptionist environment.
Call details
Call interception
Advanced software switchboard
Full extension status
Drag and drop features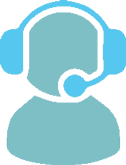 VIRTUAL OFFICE
The Go Creative Wireless Virtual Office portal is an essential tool for businesses with multiple entities within a single location. Phone numbers (DID's) are listed and tagged within the interface to pop a custom screen display when the number is called.  The screen displays the appropriate messaging for the receptionist to greet the caller.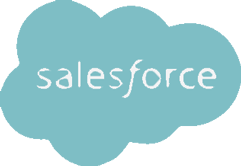 CRM | SALESFORCE
Go Creative Wireless VOIP Salesforce integration is a hosted CRM application integration that manages key communication directly within Salesforce Enterprise. This unique app automatically logs all incoming and outgoing call data into Salesforce.com while providing incoming and outgoing call popups and note taking that syncs with Salesforce basic functions.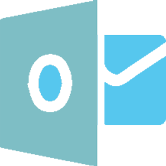 MS OUTLOOK
Go Creative Wireless VOIP offers and integrated click to call functionality directly within MS Outlook using SIP TAPI from Source Forge. Businesses can now click and dial contacts within Outlook to instantly place the IP phone on hook and dial the desired phone number. Increase productivity and automate processes within your business.
Open Internet Promise
Go Creative Wireless affirms its commitment to stay net neutral. Our customers will have open access across our network and business traffic will not be discriminated in favor of companies paying for a "fast lane". We will continue to provide our phenomenal customer service . We will maintain our commitment to quality and reinvest in our network to maintain and exceed that quality.